*Large hat sold separately
You may purchase the book at amazon.com
Epossumondas: Adorable, generic, furry hand puppet. (A baby opossum is also included that can Velcro to Epo's back.)
Cake, Butter, Puppy, Leaf, String, Bread, Diaper, and Pie
ALLIGATOR, RACCOON, NUTRIA, AND ARMADILLO ARE INDIVIDUAL EMBROIDERED FINGER PUPPETS
A drawstring pouch holds the above props.
Price: $69
Props for
EPOSSUMONDAS HAS NO HAIR ON HIS TAIL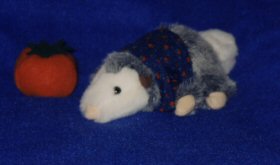 Contents: White tail, orange persimmon, fruit printed shirt, and small tab to cover the velcro on the smaller puppet's tail.
Price: $10
Bog Turtle
Price: $5

Cobra, Vulture, Lynx, and Boar finger puppets
Price: $16
Who is Epossumondas? Why he is his human mama's and his auntie's sweet little patootie who headlines as a diapered young opossum. He's also the silliest, most loveable opossum south of the Mason-Dixon line who follows his mama's instructions a little too literally with hilarious results. Children and grown-ups will squeal with laughter, both at Epo's literal interpretations and Steven's observant pencil and water color illustrations. Salley's book is a wonderful read aloud for ages 4 to 8.
BASIC EPOSSUMONDAS SET
Price: $69
ADULT SIZED HAT
$10
WHY EPOSSUMONDAS HAS NO HAIR ON HIS TAIL
$10 for white tail, orange persimmon, and shirt.
EPOSSUMONDAS SAVES THE DAY
$5 for bog turtle embroidered finger puppet
EPOSSUMONDAS PLAYS POSSUM
4 embroidered fingerpuppets; Snake, Lynx, Vulture, and Boar
$16
Purchased separately:
$110
Purchased together:
$99
an $11 discount!
"My students have 'loved' the Epossumondas' stories. We have had so much fun with them!" Kristie Rees - Fayetteville, AK.


Purchase this book at amazon.com


Purchase this book at amazon.com

Other book suggestions:
POSSUM COM-A-KNOCKIN
by Van Laan
DON'T LAUGH, JOE
by Kasza